Reader's Rides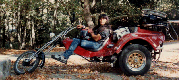 Nice Trike or Trikes, I can't make up my mind, sent in by Aleccos Emiliou from Limassol-Cyprus-Greece

---
This beauty was sent in by Andy Simpson



My machine is a Suzuki GSX1100G, the one with the shaft. Its called "Storm Bringer" because it rains every time I bring it out. The engine is standard apart from upjetted carbs, K&N filters and Harris race cans. Its enough, believe me. The guy who sold it makes exhausts for a living. The back axle is Reliant, mounted directly onto the frame. It goes well, too bloody well sometimes, and has very clean lines as the photo shows.

---
---



Very clean Reliant from Mick

Pics of my wifes trike we built this year 1st time build not bad A.?
MICK and KERRY

---



I do like Harleys (well someone has to)

From Eamonn in Ireland
Built by the Trike Shop in Cardiff and had a feature done on it by BSH.
Since then it has gone through a few more changes - new front end, seat, paint job etc.

---
I saw this mean beastie at the Brotherhood of Streetracers custom show (Bournemouth)
Then Max bought it and sent me this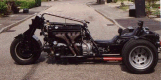 It's a Straight 6, 4.2 liter Daimler, Jag IRS rearaxle.
Max.
More pictures will be available at www.nitromax.nl ,as soon as I get around doing that.

---




This is my trike, it's a WK-TRIKE rebuild. The engine is a porsche 2000cc, 110 horse power.
I am from the Netherlands, Rotterdam.
Be careful this year, keep free on three bay
TRIKER SJAAK.

---



A pretty VW from Glasgow

Owners = Don & Susan





---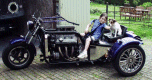 This Alfa Romeo 2.5 litre V6 Monster, complete with triple carbs belongs to Brian from Edinburgh
---



I'm looking forward to this year, now that the weather and evenings have just changed.


Some pics of trikelife in Belfast for your website.


Drennan

Drennan and neice Sheryl, on Drennan's V8 trike as bought summer 2003 – its now totally in bits with my buddy (Semp, the Master Trike Builder) in Manchester, triple plated chromed, powder coated, alloy & stainless polished, rebuilt 5 litre TVR V8 engine fitted, slightly restyled and awaiting repaint. I hope to collect it early May. Drennan's brother Colin, with his daughter Sheryl, on Drennan's V8 trike, before the ground up rebuild.





And after the ground up rebuild.





Higgy's VW 1,300cc Wilmac style trike – (via Drennan, from Semp, the Master Trike Builder )





DREN VW TRIKE 1985 My first trike in 1985. (from Semp, the Master Trike Builder) VW 1,200 cc Wilmac style

---
I've always liked the Yamaha triples, this nice example was sent in by Nick (Budgie) from RAT Motorcycles or RATZ or R and T (now they got carpet!)

My missus Gena has owned it for 3 yrs and I owned it for 2 yrs before that! It was built by Dave Miller in Kinson with the outside help from "Chufty" from an XS750 Yam with a narrowed Capri axle,now has home made rear wheels 15" done by me,Chufty and Skin (all in Kinson) to get gear ratio correct and sports a weller 8 spoke 13" front wheel on Moto X forks...Its a local trike built,maintained,etc,etc by people in Kinson!!! - Nick.

For those not living locally, Kinson is in Bournemouth.

---
I can't remember who sent me this pic of a 1200 Sporty Trike - if it's yours mail me with some details and I'll credit you

---
If you have a picture you would like added to this page please mail me and I'll try to include it.